WHO WE ARE: 
Since the Winter of '84, W. T. Kirkman Lanterns has become the Premier Tubular Lantern Manufacturer & Distributor in North America, and now routinely ship orders worldwide.  Many of the items we offer are exclusive to our line, and are not to be found elsewhere.  To complement our vast selection of new lanterns and parts, we also maintain an inventory of obsolete replacement parts and glass.  A major portion of our business is our custom electric fixtures, something we take great pride in.  Our years of experience results in an unaltered appearance that aims to be historically correct as well.  As each electric lantern is built to order, your specifications can be incorporated with ease.  You will find many of our electric lantern fixtures at major theme parks and restaurants from Coast to Coast.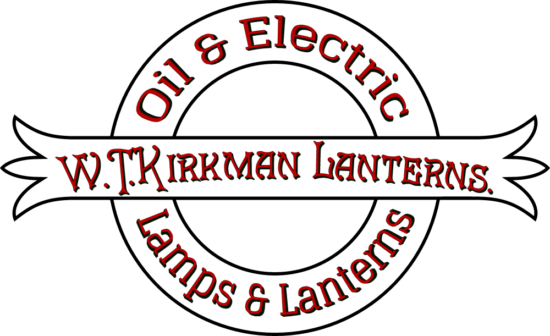 OUR SATISFACTION GUARANTEE AND RETURN POLICY:
We believe in doing business the old fashioned way.  We hope by liberal and courteous treatment of our customers, with a line of high quality goods at popular prices, that we will be viewed as the definitive company in this line, to merit the confidence of the trade, and be favored with a large share of their patronage.  If something arrives damaged or defective, please call us immediately so that we can arrange for a replacement.  If you should change your mind about a purchase, we accept returns for 30 days from receipt, (customer is responsible for original and return shipping costs.)  Refunds will be issued within 7 business days after item is returned.
YOUR PRIVACY:
The information you provide us is used solely to process your order.  We do not sell our customer's information to any third party.   For security, our online store utilizes the latest encryption to prevent information interception.
HOW TO CONTACT US:
■ E-Mail:  Info@lanternnet.com  (PLEASE NOTE:  Requests for the value of antique lanterns are automatically deleted.)

■ Toll Free Canada and U.S.A. Lantern Order and Help Line:  1-877-985-5267 (Monday - Friday, 9-5 Pacific Time)

■ International Order and Help Line:  1-760-789-2126 (Monday - Friday, 9-5 Pacific Time)

■ International Fax Number:  1-760-787-2379

■ U.S. Mail Address:  W. T. Kirkman Lanterns, Inc.,  PO Box 2166,  Ramona, CA  92065

■ Physical Address:  W.T. Kirkman Lanterns, Inc.,  947 Main St.,  Ramona, CA  92065
LANTERN APPRAISALS:
Just as any fine antique, piece of jewelry, or work of art can not be appraised sight unseen, so it is with lanterns.  Depending on what you actually have, generally speaking, the value of each lantern might be worth anywhere from $5 to $1000 or more.  We do not appraise or provide values for lanterns via e-mail, nor do we know of any legitimate company that would.  The reason we don't is simply because there are too many variables.  Two lanterns of the same model might have two different values based on several factors, including:  date of manufacture, age and color of the globe, production variations, and production materials, not to mention rarity of the model and condition. For comparison purposes, you might also search for a similar lantern at www.ebay.com to get an idea of what collectors are spending.  Keep in mind that E-Bay is an auction site, and as such, items that are well marked usually fetch premium prices.    In the end, something is only worth the price that the prospective buyer is willing to pay.  We have also established a new web page to assist collectors in identifying fake lamps and lanterns.  Visit www.lanternnet.com/fakes.html
For those needing information for a particular Dietz Lamp or Lantern, please check our FAQ Page  or  R. E. Dietz Compendium, or send us an Info@lanternnet.com, with at least one photograph of the item in question.
A FEW REFERENCES:
We are quite proud of the relationships we have developed over the years, and the repeat business we enjoy, we feel this is attributed to our "Old Fashioned" ways.   Below is a partial client list from around the world.
| | |
| --- | --- |
| Adirondack Scenic | Glens Falls, New York |
| Antietam National Battlefield | Sharpsburg, Maryland |
| Bass Pro Sport Shops | Nationwide |
| Black Bear Jamboree | Pigeon Forge, Tennessee |
| Buffalo Bill's Casino | State Line, Nevada |
| Burning Man Festival | Black Rock City, Nevada |
| Busch Gardens Williamsburg | Williamsburg, Virginia |
| California State Railroad Museum | Sacramento, California |
| Casino Windsor | Windsor, Ontario, Canada |
| Castle Park | Riverside, California |
| Cedar Point Amusement Park | Sandusky, Ohio |
| Chesapeake & Ohio Canal National Park | Hagerstown, Maryland |
| Cirque Du Soleil | Luxor, Las Vegas, Nevada |
| C Lazy U Ranch | Granby, Colorado |
| Colorado State Railroad Museum | Golden, Colorado |
| COSI Science Museum   | Toledo, Ohio |
| Cumbres & Toltec Scenic Railroad | Chama, New Mexico |
| Dayton Museum of Discovery | Dayton, Ohio |
| United Stares Department of the Interior | Washington, D.C. |
| De Soto National Memorial | Bradenton, Florida |
| Disneyland Resort USA | Anaheim, California |
| Disneyland Tokyo | Tokyo, Japan |
| Disneyland Paris (Euro Disney) | Paris, France |
| Dolly Parton's Dixie Stampede | Branson, Missouri |
| Dolly Parton's Dollywood | Pigeon Forge, Tennessee |
| Double J Resort | Rothbury, Michigan |
| Dry Gulch, U.S.A. | Adair, Oklahoma |
| Durango & Silverton Narrow Gauge Railroad | Durango, Colorado |
| Farmer's Branch Historical Park | Farmers Branch, Texas |
| Fort Davis Nat'l Historic Site | Fort Davis, Texas |
| Fort Delaware State Park | Delaware City, Delaware |
| Fort Laramie National Historic Site | Fort Laramie, Wyoming |
| Fort St. James | British Columbia, Canada |
| Grand Canyon National Park | Arizona |
| Great Smoky Mountains Railroad | Bryson City, North Carolina |
| Great Wolf Lodge | USA and Canada Locations |
| Hammacher Schlemmer | Fairfield, Ohio |
| Jewel Cave National Park | Custer, South Dakota |
| Knott's Berry Farm | Buena Park, California |
| Legoland California | Carlsbad, California |
| Legoland Windsor | Windsor, England |
| Lehman's Hardware | Kidron, Ohio |
| The Lodge at Red River | Bicknel, Utah |
| Lyndon B. Johnson National Park | Johnson City, Texas |
| Lyric Opera of Chicago | Chicago, Illinois |
| Mammoth Cave National Park | Mammoth Cave, Kentucky |
| McMaster-Carr Supply | Chicago, Illinois |
| Meadowbrook Resort | Wisconsin Dells, Wisconsin |
| NBC-Universal Studios | Burbank, California |
| Nevada State Railroad Museum | Carson City, Nevada |
| Norfolk Southern Railroad | Norfolk, Virginia |
| Paramount's Kings Dominion Park | Doswell, Virginia |
| Purdue University Reamer Club | West Lafayette, Indiana |
| Rawhide Western Town | Scottsdale, Arizona |
| Railtown 1897 State Historic Park | Jamestown, California |
| Saddle Ranch Chop House at Universal Studios | Universal City, California |
| Saddle Ranch Chop House, Kansas City, Kansas | Kansas City, Kansas |
| Salt Lake City 2002 Winter Olympics | Salt Lake City, Utah |
| Silver Dollar City | Branson, Missouri |
| Six Flags Over Texas | Arlington, Texas |
| South Dakota's 1880 Town | Murdo, South Dakota |
| Staten Island Historical Society | Staten Island, New York |
| Stone Mountain Park | Stone Mountain, Georgia |
| Strasburg Railroad | Strasburg, Pennsylvania |
| Velvet Ice Cream Company | Utica, Ohio |
| Walt Disney Studios | Burbank, California |
| Walt Disney World | Orlando, Florida |
| Warner Brothers Studios | Culver City, California |
| White Pass & Yukon Railroad | Skagway, Alaska |
| Wind Cave National Park | Hot Springs, South Dakota |
| Worlds Of Fun Amusement Park | Kansas City, Missouri |

MOTION PICTURE & TV CREDITS:
| | |
| --- | --- |
| The Harder They Fall (2020) | Santa Fe, New Mexico |
| | |
| --- | --- |
| News of the World (2020) | Santa Fe, New Mexico |
| | |
| --- | --- |
| Little Women (2019) | Ontario, Canada |
Emporer (2018)
Atlanta, Georgia

Future Man

 (2018)


Amazon Prime Series

Santa Clarita, California

The Greatest Showman

 (2017)


Hugh Jackman

New York, New York

West World

 (2015)
HBO Series

Westhall, California 
The Edge (2015)


Amazon Pilot

Santa Fe, New Mexico
The Magnificent Seven (2015)


Denzel Washington

Baton Rouge, Louisiana
The Hateful Eight (2015)


Kurt Russell

Santa Fe, New Mexico
Utopia (2014)


Fox Network TV Show

Santa Clarita, California 
Revolution (2014)


NBC Network TV Show



Texas

The Pinkertons

 (2014)
Ontario, Canada
King Bolden (2014)
Alabama, Louisianna
The Knick (2013)


(HBO Series)

Ontario, Canada
Jane Got a Gun (2013)
The Homesman (2013)
Django Unchained (2012)


Jamie Foxx, Don Johnson and Leonardo DiCaprio 



New Orleans, Louisianna, and Burbank, California 
Copper (2012)


BBC Television

Ontario, Canada

Abraham Lincoln, Vampire Hunter (2011)


Tim Burton Productions

New Orleans, Louisianna
Leverage (2010)
TV Show,

Leverage Productions

Clackamas, Oregon
Queens of Country (2010)


SemiRebellious Films

Cave Creek, Arizona
Water for Elephants (2010)


20th Century Fox/Flashpoint Entertainment

Los Angeles, California
Cowboys and Aliens (2010)


Dreamworks

Randsburg, California
Meek's Cutoff (2010)


Evenstar Films

Burns, Oregon
"I'm a Celebrity, Get Me Out of Here" 

(2009)




TV Show, Universal Studios

Universal City, California
"Lost" 

(2009)




TV Show, Walt Disney Studios

Hawaii
Battlestar Galactica (2009)


"The Plan"




TV Show, GE Productions/Universal Studios

Universal City, California
Shutter Island (2008)
(Formerly titled Ashecliffe )


Paramount Pictures 

Medfield, Massachusetts
The Yellow Handkerchief (2008)


Corbele Film Productions

New Orleans, Louisiana
Kid Nation (2007)


TV Show, CBS Studios

Santa Fe, New Mexico
3:10 to Yuma (2007)


Tree Line Films

Santa Fe, New Mexico
Extreme Makeover Home Edition (2006)


ABC Studios

Burbank, California
The Tonight Show (2006)
Starring Jay Leno


NBC Studios

Burbank, California
Pirates of the Caribbean IV "On Stanger Tides" (2010)


Walt Disney Studios

The Bahamas, and Burbank, California
Pirates of the Caribbean III "At World's End" (2007)


Walt Disney Studios

The Bahamas, and Burbank, California
Pirates of the Caribbean II "Dead Man's Chest" (2006)


Walt Disney Studios

The Bahamas, and Burbank, California
The Prestige (2006)


New Market Films/Walt Disney Studios

Hollywood, California
The Greatest Game (Ever Played) (2005)


Under Par Productions (Disney Pictures)

Hollywood, California
War of the Worlds (2005)


Paramount Pictures

Hollywood, California
Carnivale
(2003-2005)


HBO Productions

Santa Clarita, California
The Village (AKA "The Woods") (2004)


Walt Disney Studios

Philadelphia, Pennsylvania

The Stepford Wifes (2003)


Paramount Pictures

Astoria Studios, New York

Tears of the Sun (2003)


Starring Bruce Willis

Hawaii

Back in Action  (2003)


Warner Bros.

Hollywood, California


IMAX Film


The Endurance (2001)


The Story of the 1914 Shackleton Expedition

Antarctica
The Devil and Daniel Webster (2001)


Starring Sir Anthony Hopkins

New York

The Hand Prop Room, LP.
Los Angeles, California