(We Do Not Appraise Lanterns)
Sign Up Now for Our Newsletter
We do Not share this information with any third parties.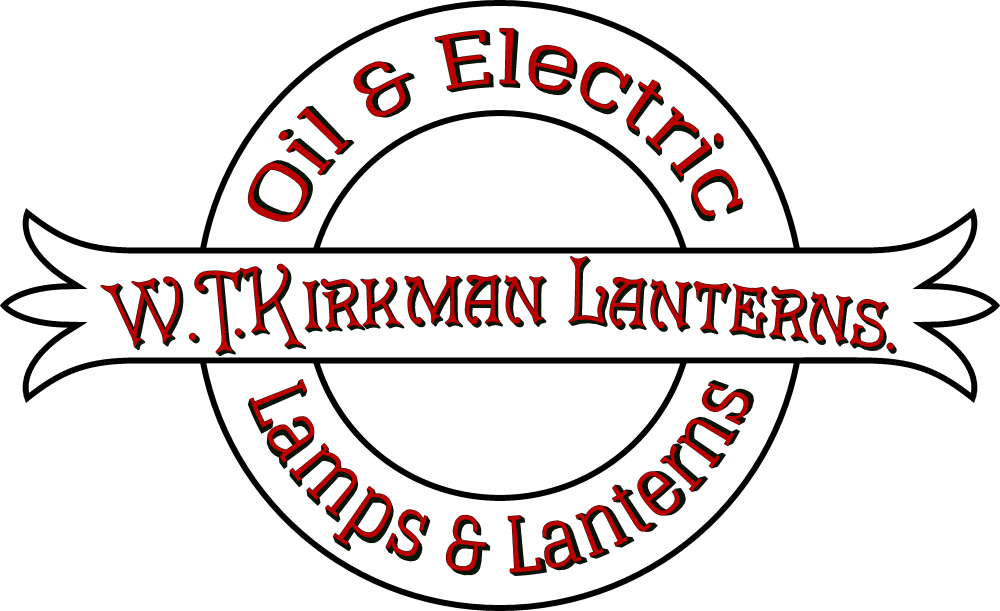 We are W.T.Kirkman Lanterns
W. T. Kirkman Lanterns, Inc., the only tubular lantern manufacturer in the United States, is proud to offer the broadest selection anywhere of Kerosene Lanterns, Oil Lamps, Replacement Parts, and Electric Conversions and Fixtures.  In addition to the largest selection of Dietz Lanterns and replacement parts, we are the exclusive distributor for the U.S.A. for Kosmos type lamps and parts by A&P Gaudard of France.  We also maintain one of the largest inventories of Aladdin Lamps and replacement parts in the Western United States.  Please note that many of the items in our line we produce exclusively, and won't be found elsewhere.  Some items are made to order and require production time.
We also offer the following:
1.  Custom Glass, Sheet Metal, and Machined Brass and Aluminum Parts Design and Fabrication.
2.  Laser Etching on Glass, Wood, and Plastic.
3.  Select Restoration Services of Both Lighting and Non-Lighting Antiques.
4.  Production of Replicas and Theatrical Props of All Types.
Our Latest Project
The Cumbres & Toltec Railway has asked us to produce Adams & Westlake Model #91 1/2 Passenger Car Center Lamps.  Production Number 001, 002, 003, and 004 have been built and are installed.  We are working on the next batch now which will include 3 Nickel Plated for use in a Business Car.
General Information:
1. Rush orders should be placed by calling our toll free order line:  1-877-985-5267, or 1-760-789-2126 from outside the U.S.
2. We do not appraise items.  We do not sell or share customer information.  Lamp oil can only be shipped via UPS or FedEx Ground Service.  We do not ship lamp oil outside of the 48 Continental United States.
COPYRIGHT © 1997 - 2020  W.T. Kirkman ®  ALL RIGHTS RESERVED
W.T. Kirkman is a Registered Trademark with the United States Patent Office