(We Do Not Appraise Lanterns)
Sign Up Now for Our Newsletter
We do Not share this information with any third parties.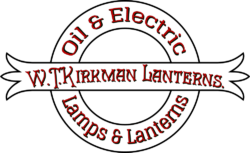 Our Latest Project
The Cumbres & Toltec Railway has asked us to produce Adams & Westlake Model #91 1/2 Passenger Car Center Lamps.  Production Number 001, 002, 003, and 004 have been built and are installed.  We are working on the next batch now which will include 3 Nickel Plated for use in a Business Car.
General Information:
1. Rush orders should be placed by calling our toll free order line:  1-877-985-5267, or 1-760-789-2126 from outside the U.S.
2. We do not appraise items.  We do not sell or share customer information.  Lamp oil can only be shipped via UPS or FedEx Ground Service.  We do not ship lamp oil outside of the 48 Continental United States.
COPYRIGHT © 1997 - 2020  W.T. Kirkman ®  ALL RIGHTS RESERVED
W.T. Kirkman is a Registered Trademark with the United States Patent Office