(We Do Not Appraise Lanterns)
Sign Up Now for Our Newsletter
We do Not share this information with any third parties.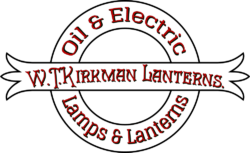 The inclusion of the links and resources below are for your convenience, and listed at the sole discretion of W. T. Kirkman, Inc..
If you would like to submit a website for possible inclusion here, use the About Us link to the left to contact us.
Use the Page Topics in the left column to assist in navigating this page.
LANTERN INFO & HISTORY
Adrian van Kats from the Netherlands displays his collection of Bicycle lamps from around the world on his Dutch website:
www.antiekefietsverlichting.nl
Another Collection from the Netherlands belonging to Henk Kloosterman:
www.stormlamp.nl
The late George Vandercook's Bulletin Board devoted to wick lanterns, mostly Highway Traffic (aka Utility) Lanterns at:
www.members3.boardhost.com/trafficgard
Darrell Collins's Lantern Markings Project:
www.camerasandlanterns.com/html/lantern_markings.html
The Railroadania Collectors Association, Inc. was founded in 1971, and covers all artifacts of railroading history:
www.railroadcollectors.org
The Key, Lock & Lantern Club offers information a picture gallery, survey info, and information on spotting fakes:
www.klnl.org
The Lantern Collector's Newsletter is a bi-monthly periodical full of good information:
The Lantern Collector Newsletter
Alan C. Love
PO Box 222
Cameron,TX 76520
e-mail:  alancl@mindspring.com
Hans Werner has a comprehensive site dedicated to the lantern makers Fröhlich & Wolter (FROWO)
In German:  www.frowo.info
OIL LAMP INFO & HISTORY
The Aladdin Knights web site is dedicated to both oil and electric Aladdin lamps:
www.aladdinknights.org
Antique Lighting enthusiast David Broughton offers kerosene lamp catalog reprints at his Sirlampsalot website:
www.sirlampsalot.com/
Stuart Driver of Australia has a great site offer Edward Miller Lamp parts and history:
www.edwardmillerkeroseneoillamps.com
CARRIAGE & MOTOR LAMPS
Colonial Carriage Works features new and antique carriage lamps:
www.colonialcarriage.com/category.cfm?id=48&title=Carriage%20Lamps
World Class Carriages has some beautiful new carriage lamps:
http://www.horsecarriages.com/carriage_accessories.html
Coyaltix Carriage Lamps specializes in English carriage lamps:
www.coyaltix.com/lamps.html
The Luminary Shoppe specializes in top shelf carriage lamp restorations:
www.luminaryshoppe.com/
Veteran Auto Lamps offers reproduction brass motor car lamps and restoration services:
www.veteranautolamps.com/
Brass Era Style Headlights are available through Speedway Motors:
www.speedwaymotors.com/Brass-T-Headlights,43367.html
MARINE/NAUTICAL LAMPS & LANTERNS
Den Haan Rotterdam Marine Oil Lamps are made from solid brass and copper:
www.dhr.nl
Weems & Plath has an extensive selection of both oil and electric Marine Lamps and Lanterns:
www.weems-plath.com
A very classy web site with some of the nicest looking colonial style lanterns to be found, visit "The Nauset Lantern Shop" at:
nausetlanternshop.com/
Vermont Lanterns has the best pricing on high quality Nautical Lanterns:
www.y2klanterns.com/nautical-lamps-lanterns.html
Vintage marine lamp lenses are available from Elisha Webb & Son Co., Inc., located in Philadelphia since 1894
215-535-2628
www.elishawebb.com
MINNING LAMPS & LANTERNS
A great information resource on Mining Lamps and Lanterns of all types:
www.miningartifacts.homestead.com/index.html
GR6S "Protector" Flame Safety Lamps, Service Kits, and History:
www.protectorlamp.com/
E. Thomas & Williams, Ltd. lamps have been in continuous production since 1860:
www.welshminerslamps.com/index.shtml
NEW OIL LAMPS & LANTERNS, ETC.
The highest quality oil lamps made today are available at:
www.kosmoslamps.com/
Star Headlight & Lantern Company still offers battery powered railroad lanterns:
www.star1889.com/
The Julian A. McDermott Company offers battery powered railroad lanterns as well:
http://www.mcdermottlight.com/
Toledo Torch road flares are now made by Fisher-Barton Inc. (no website)
Call or write for information:
Fisher-Barton Inc.
100 Industrial Blvd
Fountain Inn, SC  29644
864-862-3138
Here is a source for Oriental Paper Lanterns:
www.jadetime.com
INTERNATIONAL SOURCES FOR LAMPS, LANTERNS & PARTS
The Lamp Loft in England offers replacement parts for Aladdin, Bialaddin, Coleman, Hipolito, Magnalux,
Monitor, Optimus, Petromax, Primus, Radius, Tilley, Vapalux, etc.:
www.base-camp.co.uk/Wicks.htm
STUGA-CABAÑA is a great source in Germany for both replacement parts as well as complete lamps and lanterns:
www.hytta.de/
Associated Kerosene & Oil Lamps is located in Braidwood, New South Wales, Australia, and offers new and old oil lamps,
and restoration parts and service:
www.oillamps.com.au/index.htm
E.S. Sorrensen in Denmark carries a nice selection of oil lamps and lanterns:
www.essorensen.com
PRESSURE & MANTLE LAMPS
For the largest selection of new and old Coleman Lantern Replacement Parts,
visit the Old Coleman Parts E-Store:
:
Terry Marsh has assembled quite a website on Gas Pressure Lanterns, Lamps, Stoves and Irons:
www.terrence.marsh.faculty.noctrl.edu/lantern/
Here is a site with information on pressure lamps, it includes brief histories on several manufacturers from around the world,
visit "Pressure Lamps Unlimited" at:
www.homepage.ntlworld.com/munwai/homepage.htm
The Coleman Company website is located at:
www.coleman.com/coleman/home.asp
Frank Bebb has revamped his website on vintage Coleman with lots of restoration info:
www.oldtowncoleman.com/
RESTORATION RESOURCES
U.S. Standard Fuel Tank Sealer is a high-tech sealer impervious to all fuels, and perfect for resealing tubular kerosene lantern oil founts:
www.por15.com
Homestead Finishing Products has dye concentrate for adding to lacquer to simulate Japan finish:
www.homesteadfinishingproducts.com/htdocs/TransTint.htm
Dan Edminster has an extensive site appropriately named "The Lampworks" and has an ever changing selection of new old stock and antique items:
www.thelampworks.com/
Paul Orton stocks an impressive assortment of replacement parts for Railroad Switch and Marker Lamps and Railroad lanterns:
Hermosa International Hobbies
P.O. Box 335
San Gabriel, CA  91778
626-281-7500
Larry and Doris Krise specialize in replacement lenses and parts for restoring Railroad Switch and Marker Lamps and Railroad Lanterns:
24173 U.S. 12 East
Edwardsburg, MI  49112
269-699-7072
krise.depot@juno.com
Asheville-Schoonmaker Mica Co. has been producing mica (Isen Glass) for over 100 years:
www.ashevillemica.com/
ELECTRIFIED LAMPS & LANTERNS
Bruce Miessner offers inexpensive 12 volt garden lanterns:
www.somethindifferent.com
Barn Light Electric Co. has a superb selection of warehouse shade type fixtures made in the U.S.A.:
www.barnlightelectric.com/
Genie House specializes in hand crafted gas and electric lighting made in the USA:
www.geniehouse.com/
Another good source for Early American Lighting fixtures is:
www.heritagelanterns.com/
Handmade punched tin Colonial style lanterns:
www.thetinbin.com
S. Wilder & Co. reproduces authentic nautical lantern designs in Brass and Copper:
www.capecodlanterns.com/
19th century style lighting proudly made in the United States of America:
www.danieljoseph.com/
Roc Corbett has a site that features original design electric lighting fixtures:
www.roccorbett.com/
Alpha-Omega specializes in rustic western furnishings and electric lamps:
www.alpha-omegawf.com/
British Designed Glowstar solar powered lantern:
www.itcltd.com/glowstar/
MISCELLANEOUS LINKS
Famed metal artist La Vern Carroll has his own website with several picture galleries:
www.themetalguy.com/
Very informative cross reference for various fuel oil names used worldwide:
www.ultralight-hiking.com/fuelnames.html
Calcium Carbide for acetylene burning lamps is available from Karst Sports:
www.karstsports.com/mingradcalca.html
Real Goods and Jade Mountain have merged to create one super website featuring  renewable energy products:
www.realgoods.com/
A History of The Simmons Hardware Company:
www.thckk.org
Here's the link to the official Burning Man web-site:
www.burningman.com

This site features fire engine and police car beacon and siren sales and restorations:
www.sirenman.com
 Unparalleled Custom Silhouette Metal Wall Art, Entry Gates, "L" Brackets, Ranch Signs, Etc.
www.silhouwest.com