Note:  Are you sure you need a "Chimney." Many people confuse a Lantern's Globe with a Lamp's Chimney.  The easiest way to tell them apart is most chimneys are not held in place by the fixture both top and bottom, while a Lantern's Globe is held both top and bottom, and if you need help finding a Lantern Globe, Click Here.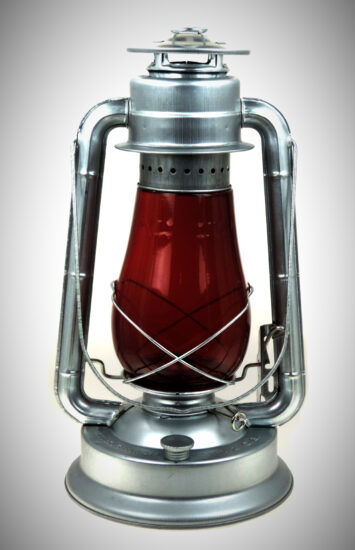 On the left is a Lantern with a Globe, held at both top and bottom.
On the Right shows a Lamp where the burner is the only part holding the Chimney in Place.  On this page we will help you find the chimney you need.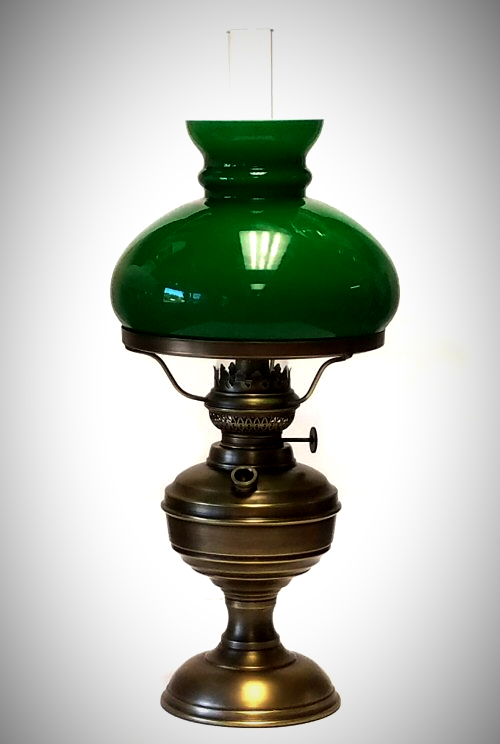 Below is a list of Links that make it easy to find the chimney you need.  Our Product Code is Logical, and follows a simple rule:  The first number is the bottom outside diameter in 16ths of inch.  The second attribute is the letter code for the shape or style of the chimney.  The last attribute is the height of the Chimney, i.e. 1200 is 12", 1050 is 10 1/2", 6875 is 6 7/8" etc..  There may also be a "-C" or "-F" following the code to note Clear or Frosted Glass.
If your burner is solid brass and has an set screw that appears to hold the chimney, look for Lip Style Chimneys
| | |
| --- | --- |
| 12-VC-1625 | 3/4" x 1 5/8" Cresoline Bulge Chimney |
| 12-VC-225 | 3/4" x 2 1/4" Cresoline Chimney |
| 18-N-350 | CH-01 "Nutmeg" 1 1/8" x 3 1/2" Oil Lamp Chimney |
| 18-N-450 | 1 1/8" x 4 1/2" "Nutmeg" Oil Lamp Chimney |
| 18-N-550 | CH-02 "Nutmeg" 1 1/8" x 5 1/2" Oil Lamp Chimney |
| 20-B-500 | 1 1/4" x 5" Bauch Bulge Chimney |
| 20-J-450 | 1 1/4" x 4 1/2" "Japanese" Chimney |
| 20-JC-450 | 1 1/4" x 4 1/2" "Japanese" Crimp Top Chimney |
| 20-MS-2625 | #10-2-59 Adlake Switch/Marker Lamp Chimney |
| 20-OS-2625 | #10-2-55 Adlake Old Style Switch Marker Lamp Chimney |
| 20-P-275 | 1 1/4" x 2 3/4" Perceo/Pixie Chimney |
| 21-VT-350 | CH-13 1 5/16" x 3 1/2" "Vintner" Oil Lamp Chimney |
| 22-B-6875 | CH-06B "Bombē" 1 3/8" x 6 7/8" Oil Lamp Chimney |
| 22-BP-6875 | CH-06BP "Bombē Petite" 1 3/8" x 6 7/8" Oil Lamp Chimney |
| 22-K-500 | 1 3/8" x 5" Short #6 Kosmos Oil Lamp Chimney |
| 22-K-83125 | CH-06 1 3/8" x 8 5/16" Kosmos Oil Lamp Chimney |
| 23-K-8375 | CH-08 1 7/16" x 8 3/8" Kosmos Oil Lamp Chimney |
| 23-K-925 | CH-08 1 7/16" x 9 1/4" Kosmos Oil Lamp Chimney |
| 24-C-200 | 1 1/2" x 2" Glass Cylinder for Small Yacht Lamps |
| 24-C-225 | 1 1/2″ x 2 1/4″ Glass Cylinder for Yacht Lamps |
| 24-V-800 | 1 1/2" x 8" Vienna Bulge Chimney |
| 25-K-5125 | 1 9/16" x 5 1/8" Short #10 Kosmos Oil Lamp Chimneys |
| 25-K-675 | 1 9/16" x 6 3/4" Medium #10 Kosmos Oil Lamp Chimneys |
| 25-K-8875 | 1 9/16" x 8 7/8" #10 Kosmos Oil Lamp Chimneys |
| 25-K-975 | 1 9/16" x 9 7/8" #10 Kosmos Oil Lamp Chimneys |
| 26-GA-475 | 1 5/8" x 4 3/4" Gem Arctic Chimney |
| 26-GA-650 | 1 5/8" x 6 1/2" Gem Arctic Chimney |
| 26-GA-850 | 1 5/8" x 8 1/2" Gem Arctic Tall Chimney |
| 26-GP-4875 | 1 9/16 - 1 5/8" x 4 7/8" Clear "Gem Pine" Oil Lamp Chimney |
| 26-K-1000 | CH-12 1 5/8" x 10" Kosmos Oil Lamp Chimney |
| 27-C-550 | 1 11/16" x 5 1/2" Lamp Glass for Passenger & Ship's Lamps |
| 28-ML-450 | 1 3/4" x 4 1/2" Marine Lip Chimney |
| 30-B-650 | 1 7/8" x 6 1/2" Bulge Chimney |
| 30-C-2375 | 1 7/8" x 2 3/8" Glass Cylinder for Yacht Lamps |
| 30-SL-1050 | 1 7/8" x 10 1/2" English Student Lamp Chimney |
| 31-CL-550 | 1 15/16" x 5 1/2" #85 Adlake Candle Lamp Chimney |
| 31-T-750 | 1 15/16" x 7 1/2" #87S Traction Lamp Chimney |
| 31-T-1000 | 1 15/16" x 10" #87 Traction Lamp Chimney |
| 32-C-225 | 2" x 2 1/4" Glass Cylinder for Large Yacht Lamps |
| 32-L-5375 | 2" x 5 3/8" Lip Chimney |
| 32-V-975 | CH-11 2" x 9 3/4" Vienna/Mars Chimney |
| 32-V-1000 | 2" x 10" Clear Vienna Style Chimney |
| 32-VS-650 | 2" x 6 1/2" Victor Sun Chimney |
| 33-K-675 | 2 1/16" x 6 3/4" Short #14 Kosmos Oil Lamp Chimney |
| 33-K-825 | 2 1/16" x 8 1/4" Medium #14 Kosmos Oil Lamp Chimney |
| 33-K-1025 | CH-14 2 1/16" x 10 1/4" Kosmos Oil Lamp Chimney |
| 33-LT-675 | 2 1/16" x 6 3/4" Lotus Chimney |
| 33-M-825 | 2 1/16" #15 "Matador" Oil Lamp Chimneys 8 1/4" |
| 33-M-1025 | 2 1/16" #15 "Matador" Oil Lamp Chimneys 10 1/4" |
| 33-SL-750 | 2 1/16" x 7 1/2" Student Lamp Chimney - Macbeth #954 |
| 34-B-9125 | 2 1/8" x 9 1/8" Bombe Chimney |
| 34-L-6125 | 2 1/8" x 6 1/8" Lip Chimney |
| 34-L-800 | 2 1/8" x 8" Lip Chimney |
| 34-L-900 | 2 1/8" x 9" Lip Chimney |
| 34-OX-825 | 2 1/8" x 8 1/4" Oxford Chimney |
| 34-TC-650 | 2 1/8" x 6 1/2" Tram Comet Chimney |
| 36-C-275 | 2 1/4" x 2 3/4" Glass Cylinder for Large Yacht Lamps |
| 38-L-825 | 2 3/8" x 8 1/4" Lip Chimney |
| 40-B-750-C | 2 1/2" x 7 1/2" Sun Bulge Chimney - Clear |
| 40-B-750-F | 2 1/2" x 7 1/2" Sun Bulge Chimney - 3/4 Frosted |
| 40-B-1200 | 2 1/2" (2 5/8) x 12" Sun Bulge, Rayo C.D. Chimney |
| 40-L-600 | 2 1/2" x 6" Lip Chimney |
| 40-LT-750 | 2 1/2" x 7 1/2" Lotus Chimney |
| 40-PO-1200 | 2 1/2" x 12" #44 Acme Postal Chimney |
| 41-DO-1000 | 2 9/16" x 10" Duplex Oval Chimney |
| 41-DR-1200 | 2 9/16" x 12" Duplex Round Chimney |
| 41-M-825 | 2 5/8" x 8 1/4" Short #20 "Matador" Chimney |
| 41-M-10625 | 2 9/16" x 10 5/8" Aladdin "Matador" Chimney |
| 42-B-775 | 2 5/8" x 7 3/4" Sun Bulge, Rayo C.D. Chimney |
| 42-B-1000 | 2 5/8" x 10" Sun Bulge, Rayo C.D. Chimney - Clear |
| 42-B-1000-F | 2 5/8" x 10" Sun Bulge, Rayo C.D. Chimney - 3/4 Frosted |
| 42-BP-1250 | 2 5/8" x 12 1/2" Dietz #821 "Elegant" Lamp Chimney |
| 42-BP-1300-C | 2 5/8" x 13" Bulge Petite (Slimline,) Plain Top Chimney - Clear |
| 42-BP-1300-F | 2 5/8" x 13" Bulge Petite (Slimline,) Plain Top Chimney - 3/4 Frosted |
| 42-GB-850 | 2 5/8" x 8 1/2" Globe Bulge Chimney - Clear |
| 42-GB-850-F | 2 5/8" x 8 1/2" Globe Bulge Chimney - Frosted |
| 42-L-806 | 2 5/8" x 8 1/16" Lip Chimney |
| 42-M-1000-C | CH-20 2 5/8"x 10 1/2" Matador Chimney |
| 42-M-1100-C | CH-20 2 5/8"x 11" Matador Chimney |
| 42-M-1100-F | CH-20 2 5/8"x 11" Matador Chimney - Frosted |
| 42-M-1200-C | CH-20 2 5/8"x 12" Matador Chimney |
| 44-C-1400 | 2 3/4" x 14" #160 Coleman Ker-O-Lite Chimney |
| 45-AR-800 | 2 13/16" x 8" Frosted Argand Chimney |
| 48-B-850 | 3" x 8 1/2" Sun Bulge Plain Top Chimney (CH-830) |
| 48-B-1000-C | 3" x 10" Sun Bulge Chimney (CH-836) - Clear |
| 48-B-1000-F | 3" x 10" Sun Bulge Chimney (CH-836) - 3/4 Frosted |
| 48-B-1200 | 3" x 12" Sun Bulge Chimney |
| 48-BP-1000 | 3" x 10" Bulge Petite (Slimline,) Plain Top Chimney |
| 48-BP-1200 | 3" x 12" Bulge Petite (Slimline,) Plain Top Chimney |
| 48-BS-1000 | 3" x 10" Slim Bulge Chimney |
| 48-BS-1200-C | 3" x 12" Slim Bulge Chimney (CH-844) - Clear |
| 48-BS-1200-F | 3" x 12" Slim Bulge Chimney (CH-844) - 3/4 Frosted |
| 48-BS-1400-C | 3" x 14" Bulge Slim Plain Top Chimney (CH-868) - Clear |
| 48-BS-1400-F | 3" x 14" Bulge Slim Plain Top Chimney (CH-868) - 3/4 Frosted |
| 48-C-500 | 3" x 5" Cylinder |
| 48-C-800 | 3" x 8" Cylinder |
| 48-C-1000 | 3" x 10" Cylinder |
| 48-DE-900 | 3" x 9" Etched "Diana" Large Bulge Chimney |
| 48-DHSH-900 | 3" x 9" Home Sweet Home "Diana" Large Bulge Chimney |
| 48-DP-900 | 3" x 9" Plain "Diana" Large Bulge Chimney |
| 48-FT-8625 | 3" x 8 5/8" Flare Top Chimney |
| 48-H-700-M | 3" x 7" "Montana" Hooded Chimney |
| 48-LT-825 | 3" x 8 1/4" Lotus Chimney (CH-840) |
| 48-PL-850 | 3" x 8 1/2" Large Pearl Top Chimney (CH-865) |
| 48-PT-850 | 3" x 8 1/2" Pearl Top Chimney (CH-860) |
| 53-L-9750 | 3 5/16" x 9 3/4" Lip Chimney |
| 53-LAV-975 | 3 5/16" x 9 3/4" Frosted Lavery Chimney |
| 64-B-1200-C | 4" x 12" Sun Bulge (Rochester,) Chimney |
| 64-B-1200-F | 4" x 12" Sun Bulge (Rochester,) Chimney - 3/4 Frosted |
| R103 | Aladdin #R103 Premium Grade Lox-On Chimney 12 1/2" Tall |
| R105 | Aladdin #R105 Premium Grade Lox-On High Altitude Chimney 15 1/2" Tall |
| R905-DWO | Aladdin #R905 Premium Grade Heel-Less High-Altitude Chimney 15 1/2" Tall |
| R905500 | MAXbrite® 500 Heel-less High Output Chimney 15 1/2" Tall |
| R910-2-DWO | Aladdin #R910-2 Premium Grade Heel-Less Chimney 12 1/2" Tall |
| R910500 | MAXbrite® 500 Heel-less Chimney 12 1/2" Tall |