Sign Up Now for Our Newsletter
We do Not share this information with any third parties.
General Information:
1. Rush orders should be placed by calling our toll free order line:  1-877-985-5267, or 1-760-789-2126 from outside the U.S.
2. We do not appraise items.  We do not sell or share customer information.  Lamp oil can only be shipped via UPS or FedEx Ground Service.  We do not ship lamp oil outside of the Lower 48 United States.
W.T.Kirkman Lanterns Updates & Articles
W.T.Kirkman Lanterns is Proud to Introduce the Feuerhand Transport Bag to the American Market! This Fabric Case holds (1) Feuerhand #276 Lantern or Dietz #76 Lantern. Made of 100% Polyester and is Very Durable with a carry handle, Perfect for any Camping Trip. Why the Transport Bag is the ideal complement for your Feuerhand Baby Special:
Packed safely for transportation due to custom-fit, reinforced inlay
Stowed dry thanks to water-repellent ripstop fabric
Extra storage space inside the lid for spare wicks, matches and more
With the Feuerhand Transport Bag you can take your Baby Special 276 anywhere you feel, while being confident that it is well protected. Thanks to the reinforced inner walls your Hurricane Lantern will be in a stable position and always well packed. Thus, transporting your Feuerhand Hurricane Lantern becomes easier and safer… The Transport Bag is also ideal for stowing the Baby Special 276 and protecting it from moisture as the sturdy ripstop fabric is resistant to water and dirt. Please note that the lantern must always be emptied before transportation.
SPECIFICATIONS:
■ Expanded (11.5″ Tall, 6″ Wide, 6″ Depth
■ Folded up (6″ Wide, 11.5″ Long, 1.5″ Bulk)
■ 100% Polyester Construction
■ Made in Germany
Note: Transport Bag also Works well for the Dietz #76 Cold Blast Lantern.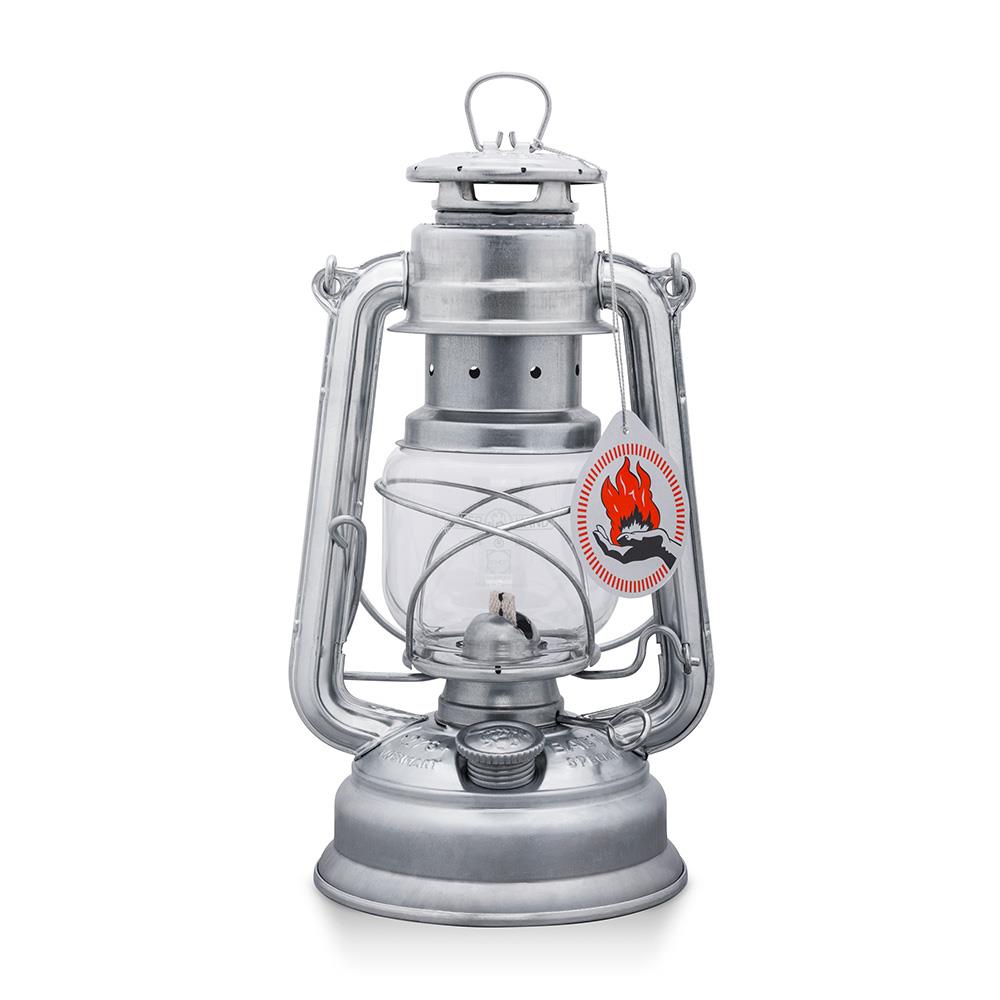 Feuerhand #276 "Baby Special" Cold Blast Lantern
The Feuerhand #276 "Baby Special" lanterns have been in production in Germany since 1902, and are in fact the last of the original tubular lanterns still produced in the western hemisphere. They are known the world…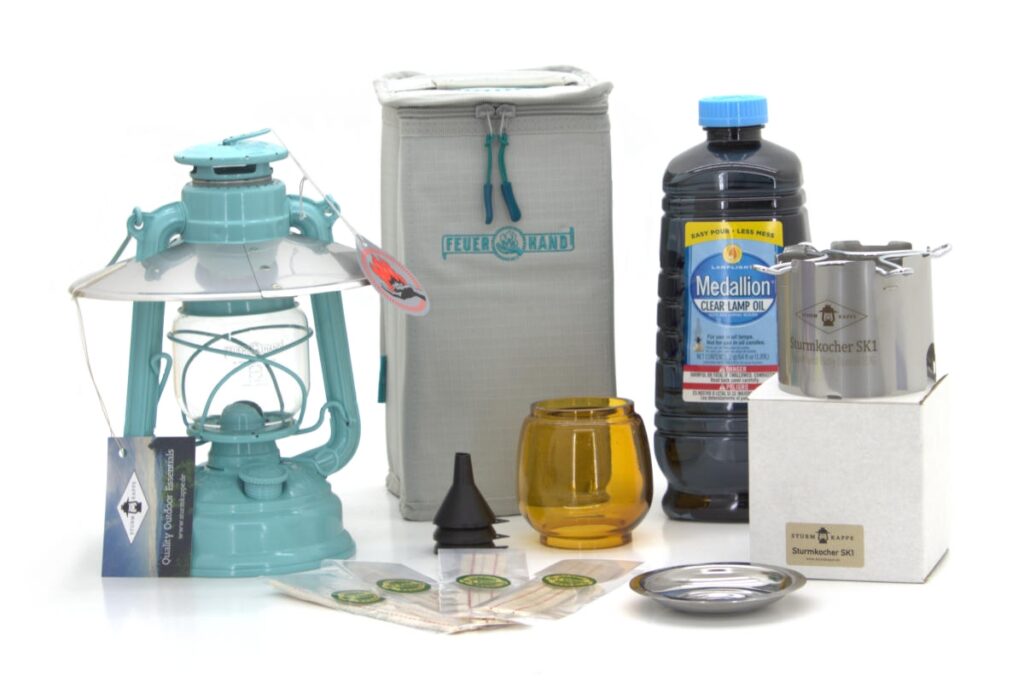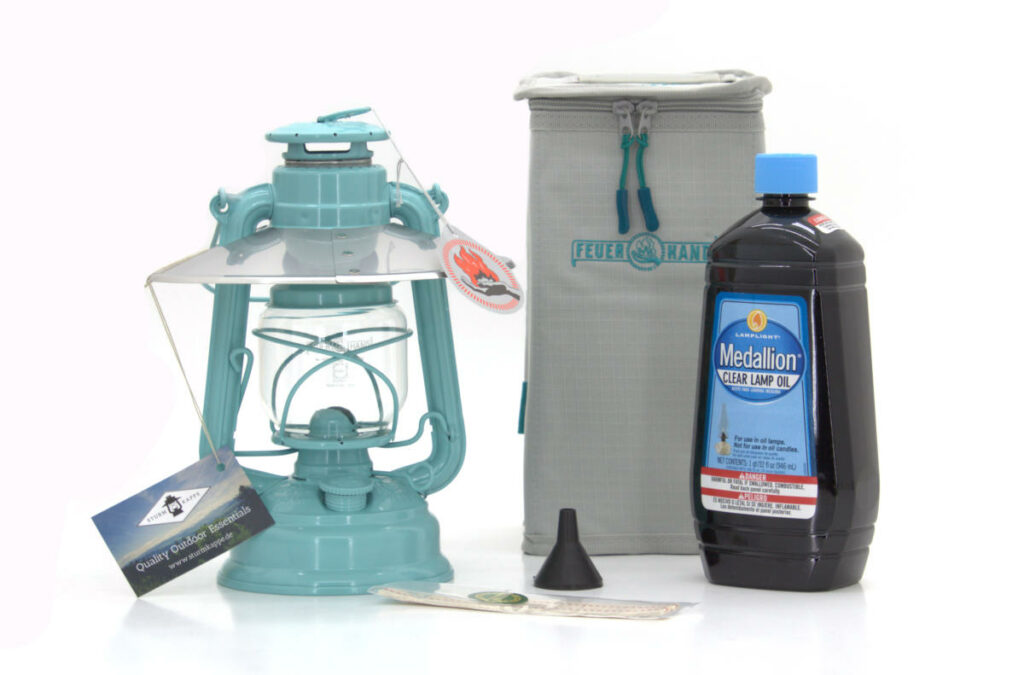 We have developed a new process that can achieve large amounts of rust in just a few days time on otherwise brand new steel. On any of our lamps that have Steel, we can do a rust finish. If you've been looking for a old looking lamp or lantern, and our aged finishes were not your cup of tea, a rust finish with the bright oranges, reds, and browns may be perfect!
Ask about this finishes' availability on any of our lamps or lanterns!
A Collector of old lanterns shared this photo of our Solid Copper Hooded Reflector on his Prisco #2 Cold Blast. We think the warm pink color of Copper looks down right Amazing.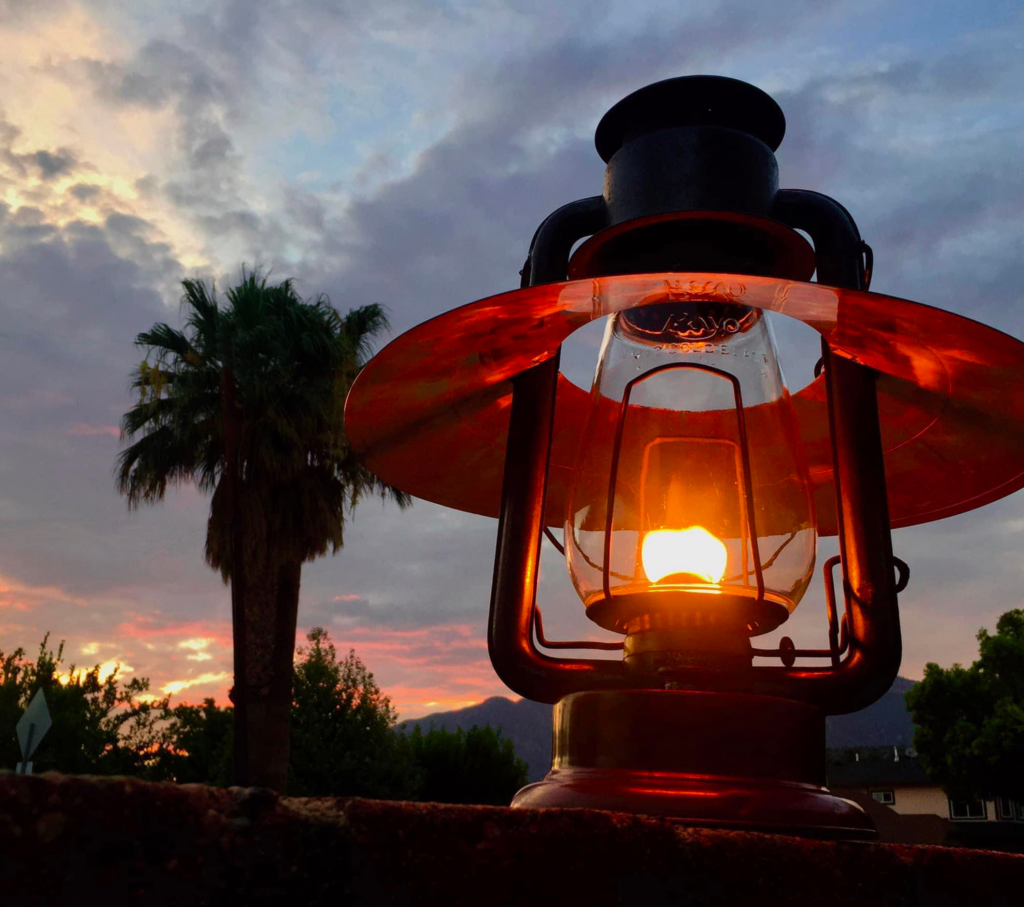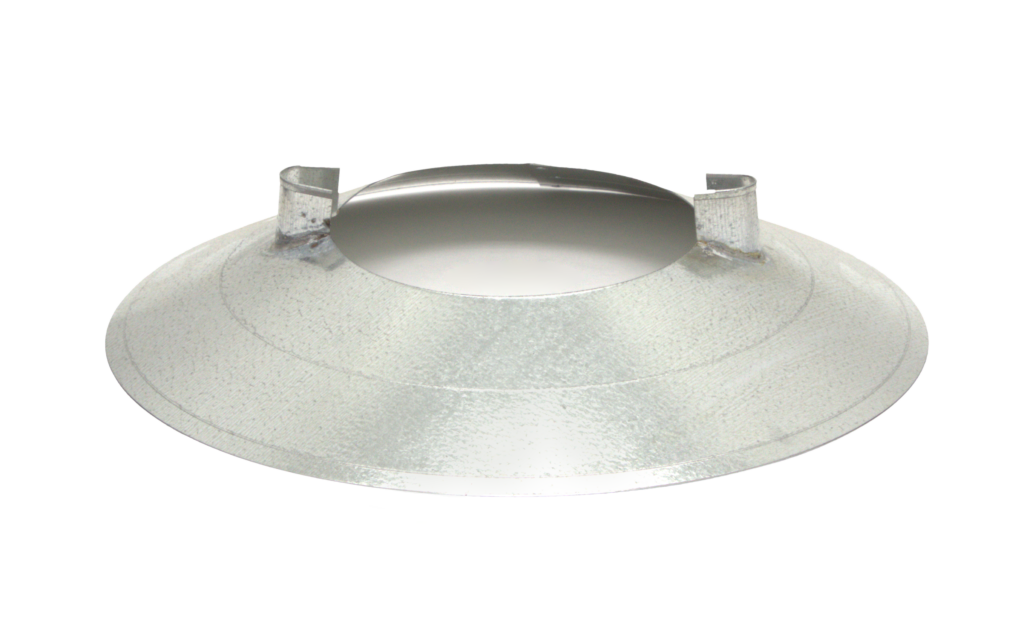 W.T. Kirkman Hooded Reflector
Another W.T. Kirkman exclusive: All of our hooded reflectors are pitched at 30 degrees to perfectly cast light directly under the lantern to eliminate any shadow, making them ideally suited for use over a desk or t…
A customer of ours requested we build a 2 arm version of our "Silverton" Gas Lamp, This new fixture, the "Ironton" is double the lamp of before. We think the lamp looks quite nice with these NOS Solid Red Shades.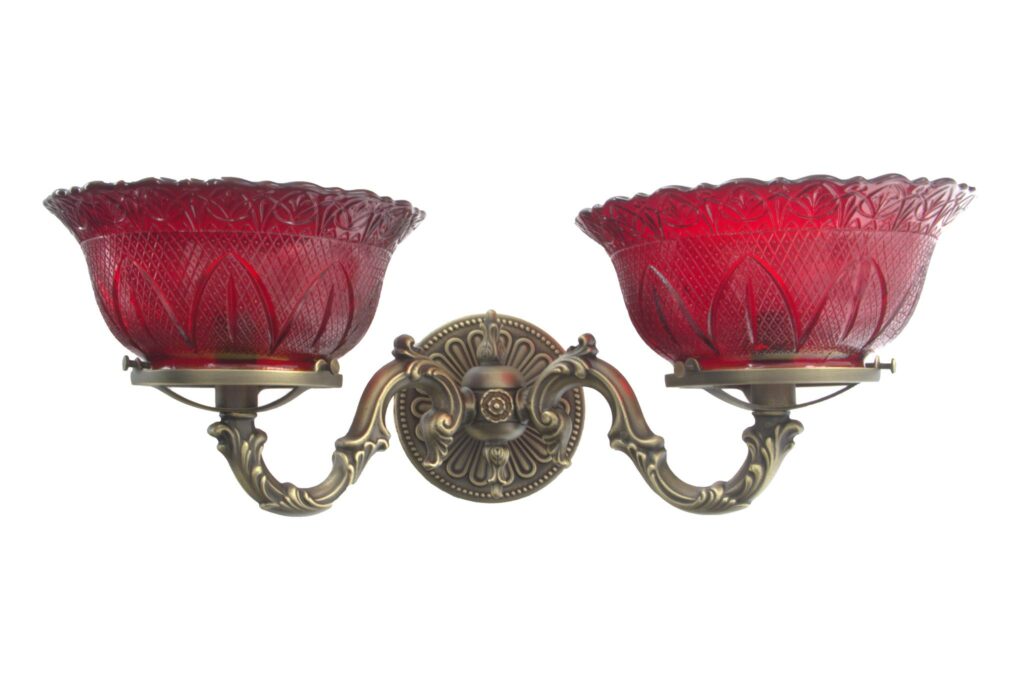 W.T. Kirkman "Ironton" Electrified Gas Wall Lamp
A W.T.Kirkman Exclusive!  Built right here in Ramona, California, our New "Ironton" Gas Lamp is a Gorgeous Addition to any Victorian Home.  Available with a variety of shades, and accepts 4″ Gas Shades, the most co…
Here's two photos a recent installation of our #1868 Chandelier in a 4 arm configuration along with an interesting request of our Julian Lamps in a Cast Iron Black Finish. We think it turned out Great!!!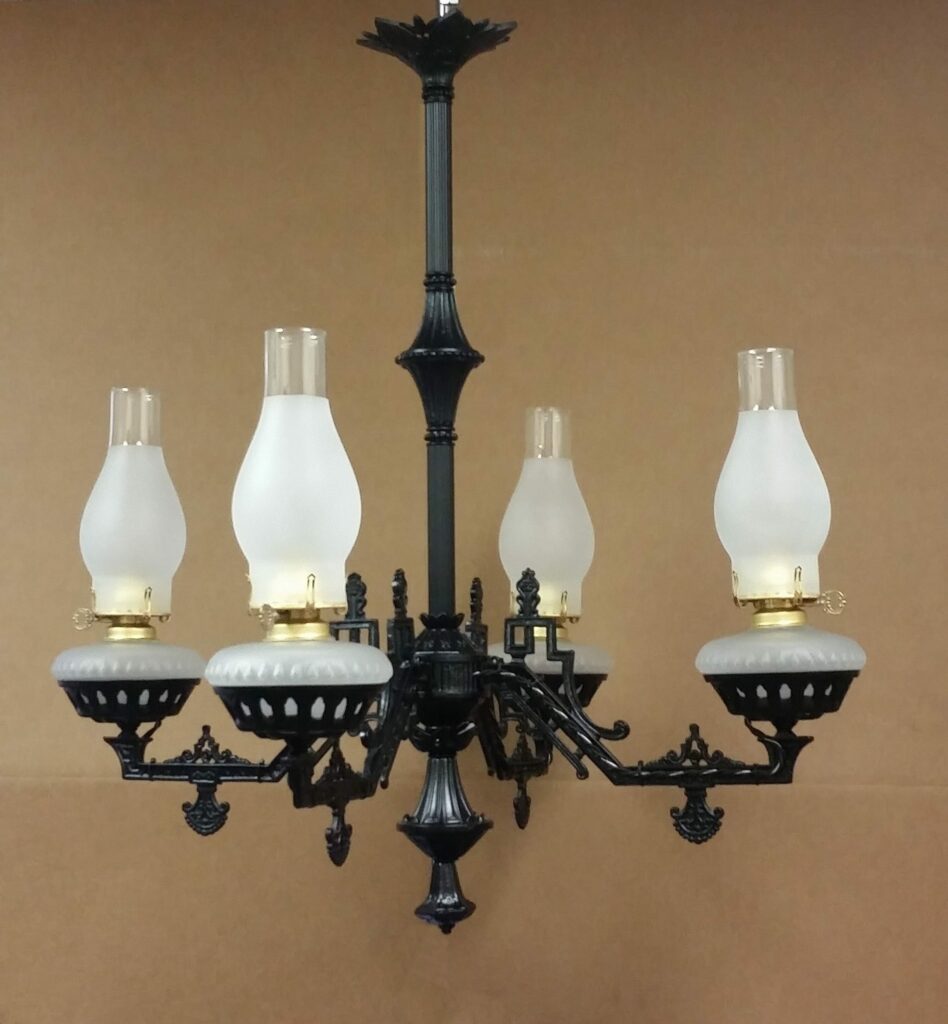 W.T. Kirkman #1868 4 Arm Hanging Lamp
W.T. Kirkman Exclusive!

Late 1860's pattern Hanging Oil Lamp Offered with 2, 3 or 4 Arms. Ornate cast aluminum construction with satin black enamel finish and solid brass down rod. Requires 10' or higher ceilings.
SPECIFICATIONS</stron…
Have you wanted to add a historically accurate flashlight to your old Pistol? We have the solution for you!
(A Special Bracket would need to be ordered, but we could produce a lamp for this purpose.)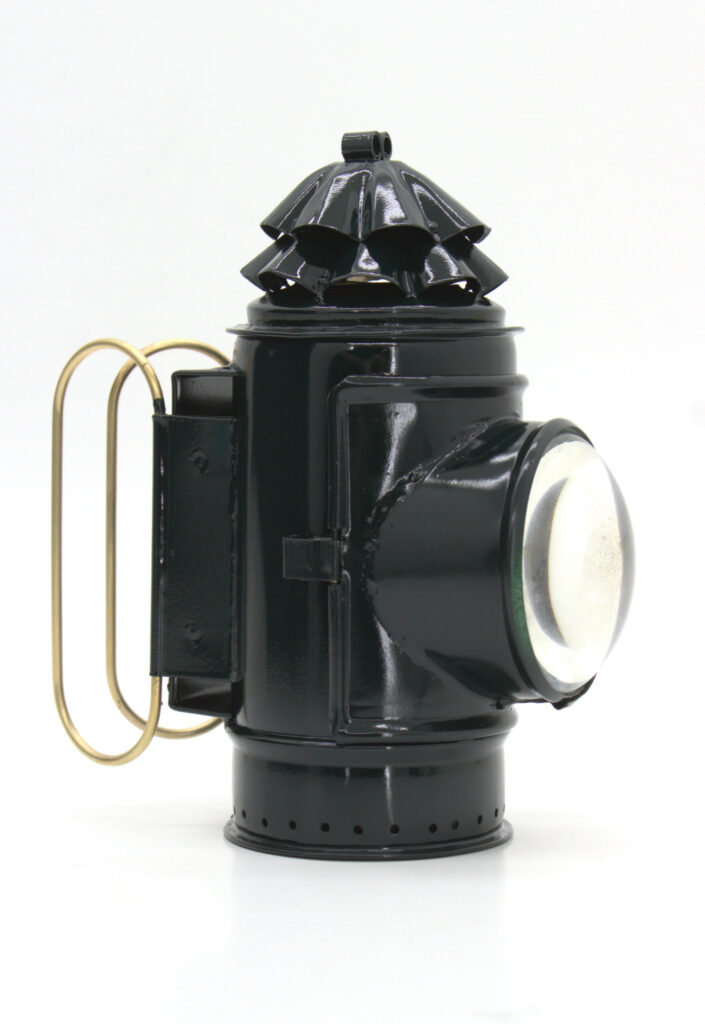 1860's Policeman/Signal Lantern Replica
Lanterns of this type were used both as boat signal lantern as well as a policeman's lantern. A similar lantern was retrieved from the wreck of the CSS H.L. Hunley. This item is made to order. Oil or electric versions available.
Note the Lamp Photographed is an electric lamp with a wire out the back.
<p style="text-align: c…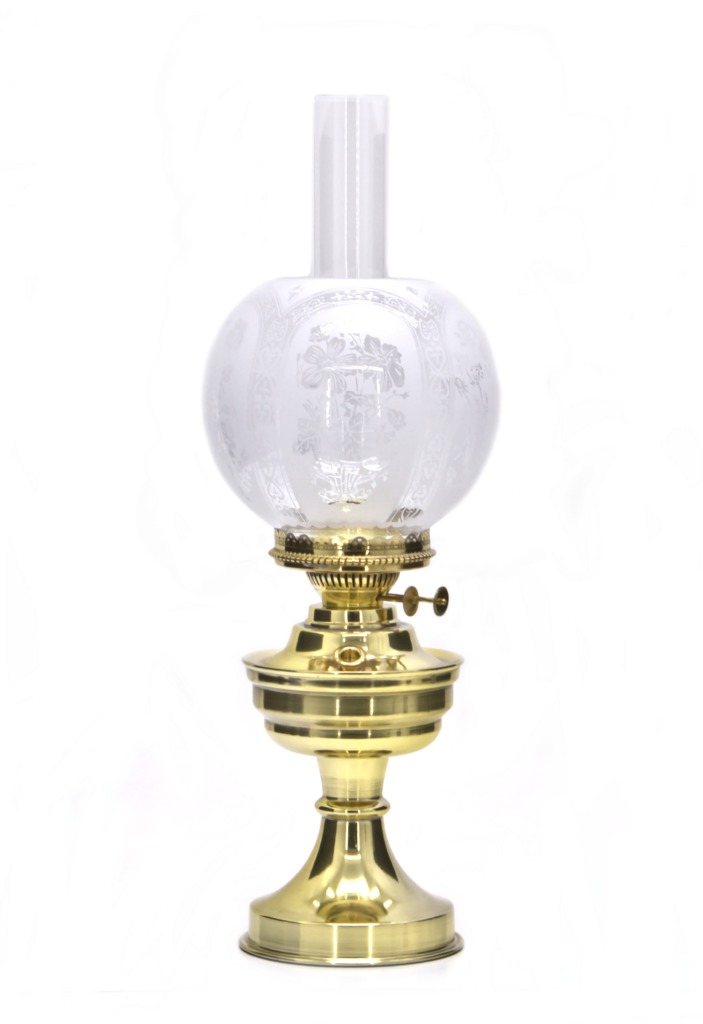 W.T. Kirkman "Ramona" Table Lamp w/English Duplex Burner
W.T. Kirkman Exclusive
The New W.T. Kirkman No. 92 "Ramona" Solid Brass Table Lamp is a stunning addition to our catalog. This version features the English Duple…
At times, our customers approach us in search of specific lamps that haven't been manufactured in decades, and sometimes even more than a century. They request us to replicate these unique pieces. One such project involves recreating one of the most exquisite railcar chandeliers ever featured in the old catalogs – the 2-arm and 4-arm Fleur-De-Lis Adams & Westlake Center Lamps.
Our current assignment entails crafting three of the 2-arm fixtures and one grand 4-arm chandelier for the rear Observation Room of a coach owned by the President of a prominent railroad company. This coach boasts exceptional trimmings, and these lamps were no exception. As we progress, I'll share more photos of our work.
The initial step involves designing every component of these lamps and devising our production strategy. Subsequently, we'll create masters for casting. Fortunately, resin 3-D printing will greatly assist us in this endeavor. Castable resin "waxes" eliminate the need for silicone molds, ensuring that the quality of these brass castings will be nearly perfect to the clean 3-D models we have produced.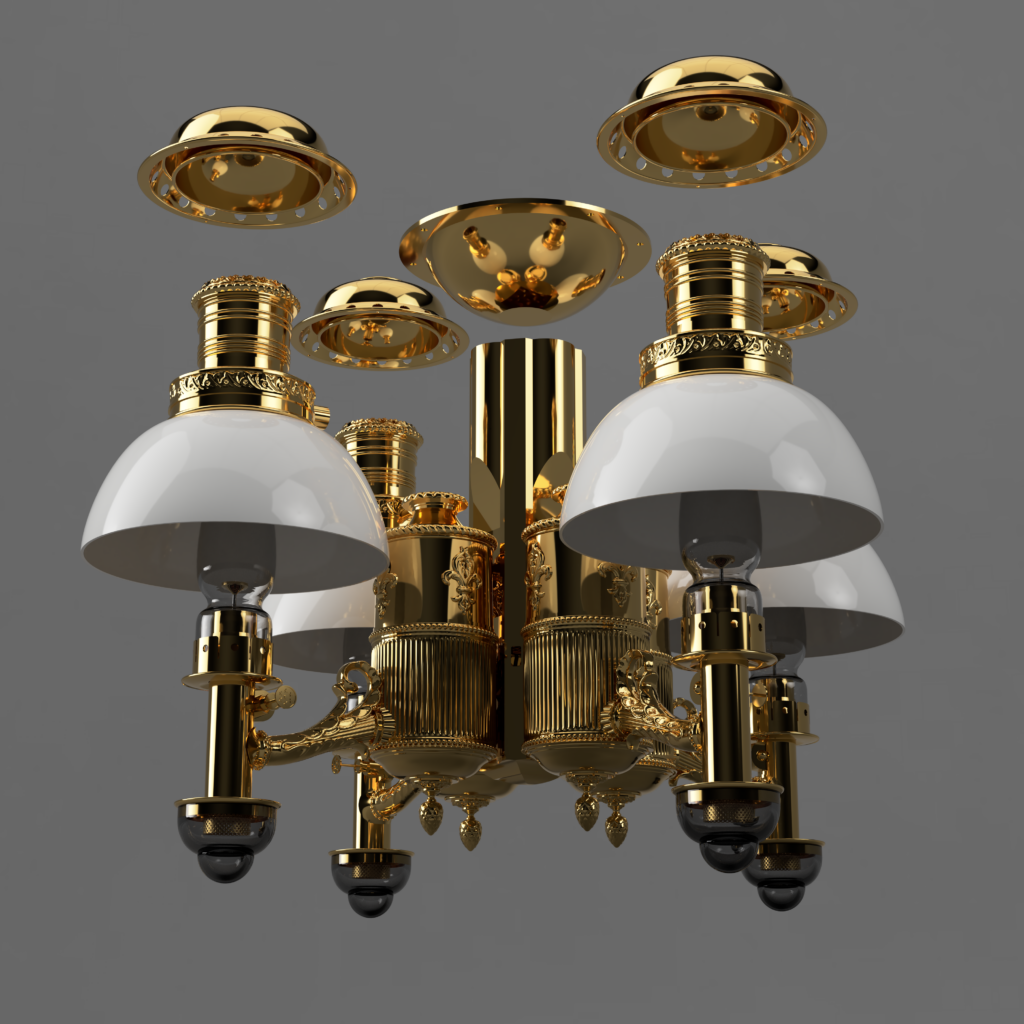 Grab these discontinued Lamps at Huge Discounts! Once supply runs out, these Lamps will no longer be offered. LIMITED TO STOCK ON HAND.
Recently added to our Catalog, Our Replica of an Archer and Pancoast/Dietz Hand Square Lamp from the 1860's. This Lamp uses our Solid Brass Convex burner with a 5/8″ Wick, and is built here in America. The Lantern is available in Aged Galvanized, Painted finished, Polished, Antique and Aged Brass as well! Colored and or etched glass panels are also Available!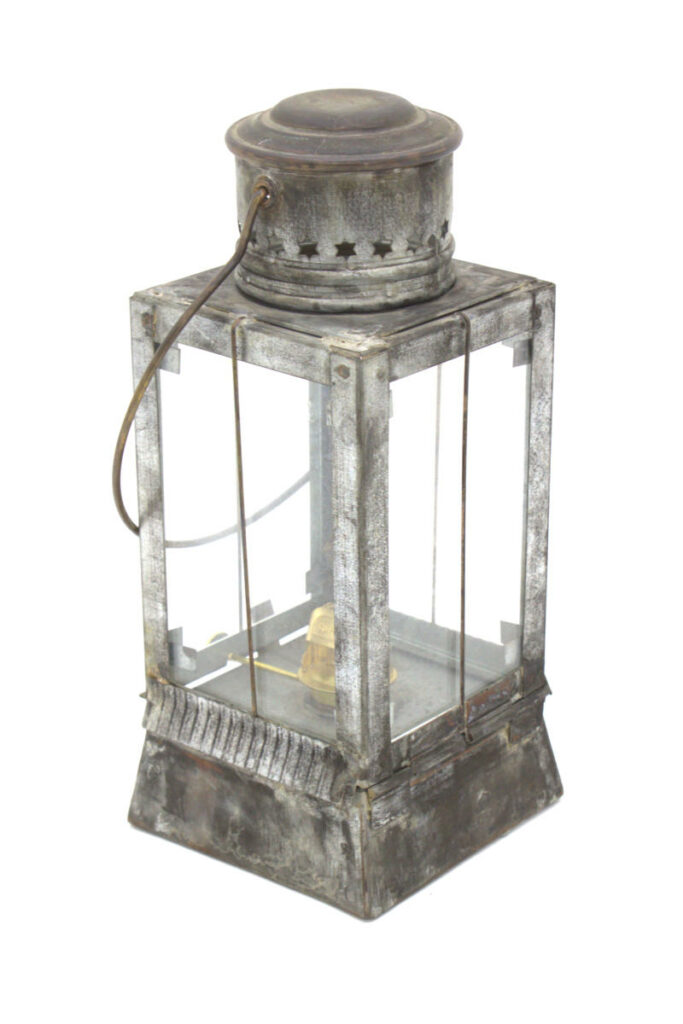 1870's Archer & Pancoast/Dietz Style Square Dead-Flame Hand Lantern
Absalom Smith Tilt-Patent Archer & Pancoast Square Lantern Circa 1864.
Constructed in America.  Soldered Construction.  Lamp design would have been used during the Civil War though not likely by the Military.
Contact us about Etched Glass Panels if desired.
<p style="text-align: cente…
A Customer ordered one of our Railroad Car Chandeliers… but for the first time, Not for a Railcar, but instead his Kitchen! He ordered a dual Oil/Electric Set up, so that he can use the lamp causally for kitchen light but so the lamp is also authentic and not just a facsimile. The Nickel Plated Finish was the obvious choice for the setting, and we think it looks GREAT!
General Information:
1. Rush orders should be placed by calling our toll free order line:  1-877-985-5267, or 1-760-789-2126 from outside the U.S.
2. We do not appraise items.  We do not sell or share customer information.  Lamp oil can only be shipped via UPS or FedEx Ground Service.  We do not ship lamp oil outside of the Lower 48 United States.
COPYRIGHT © 1997 - 2022  W.T. Kirkman ®  ALL RIGHTS RESERVED
W.T. Kirkman is a Registered Trademark with the United States Patent Office